Specials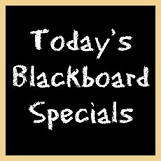 Our specials boards are updated daily. So be sure to check out the blackboards located around the pub.
Call 01684 592758 to book or enquire.
View our Evening Menu
View our Christmas Menu
Our Lunchtime Menu
View our Christmas Menu
~ Mains ~
Cheese Burger, Lettuce and Tomato in a Toasted Bun with Homemade Onion Rings and Chips - £11.95
Homemade Lasagne (Beef or Vegetable) served with Garlic Bread and Mixed Leaves - £11.95
Pan Fried Sea Bass, Buttered New Potatoes, Lemon Butter Sauce - £14.95
Beer Battered Fish and Homemade Chips with Mushy or Garden Peas - large £12.50 - small £8.50
Trio of Sausages, Mash, Peas and Gravy - £11.25
Goats Cheese and Red Onion Chutney Tart with Rocket and a Balsamic Glaze - £11.50
~ Sandwiches ~
Ploughmans
Chicken Salad
Tuna and Mayo
Brie and Cranberry
Cheese and Tomato or Red Onion
Served on Farmhouse White or Granary Bread - Gluten Free Bread available
£7.25
~ Handmade Pies ~
Steak Ale and Stilton, Chicken, Lamb Mint Rosemary and Redcurrant, Beef and Mushroom, Turkey Ham Hock and Leek, Steak, Steak and Kidney, Chicken Balti - £11.95
All main courses and Pies are served with Vegetables, Peas or Salad (14) and a choice of Mash, New, or Homemade Chips (unless otherwise stated)
~ Sides ~
Homemade Chips - £3.00
Cheesy Chips - £3.50
Side Salad - £2.50
Onion Rings - £3.00
Garlic Bread - £3.00
~ Homemade Desserts – please ask ~
~ For Our Younger Customers ~
Chicken Nuggets
Sausages
Cheese and Tomato Pizza
Fish Fingers
Beef Burger
Scampi
All of the above served with Mashed Potato or Chips and Beans or Peas
£4.95
Please note that all of our dishes are freshly prepared, so please bear with us whilst we ensure food is cooked and presented to your liking
FOOD ALLERGY NOTICE – If you have a food allergy or a special dietary requirement, please inform a member of the team.