Specials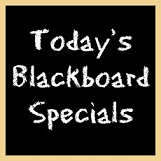 Our specials boards are updated daily. So be sure to check out the blackboards located around the pub.
Call 01684 592758 to book or enquire.
Our Menu - Served Lunchtime and Evening
View our Christmas Menu
~ Starters ~
Roasted Scallops with Crispy Pancetta and Lemon Crème Fraiche - £6.65
Balsamic, Oil, Olives and Rustic Bread - £5.15
Soup of the Day with Warm Rustic Bread - £5.15
Fried Crumbed Whitebait with Lemon Pepper Mayo - £5.35
Field Mushroom stuffed with Stilton on Mixed Leaves - £5.15
Pate of the Day with Toasted Rustic Bread - £5.60
Smoked Salmon and Cray Fish Salad with Marie Rose Sauce - £6.50
~ Mains ~
Pan Fried Gressingham Duck Breast with Chef's Sauce of the Day - £14.95
Grilled Salmon Fillet with Ratatouille - £14.25
Sea Bass Fillets with Black Pepper Butter - £14.25
Chicken Breast stuffed with Black Pudding or Brie, wrapped in Bacon with a Wild Mushroom Sauce - £13.95
Slow Roasted Belly Pork with BBQ Glaze, Caramelised Apples and Crackling - £14.50
12oz Gammon Steak with Fried Pineapple or Egg - £14.25
Beer Battered Cod with Homemade Chips and Mushy or Garden Peas – large £11.75 small £7.75
Chicken or Beef Curry with Basmati Rice and Poppadom - £10.75
Wholetail Scampi with Homemade Chips and Mushy or Garden Peas - £10.95
Fish Pie with Smoked Haddock, Salmon and Cod in a Cheese, Leek and Dill Sauce topped with Herbed Mashed Potato - £13.25
Pan Fried Lamb's Liver, Smoked Bacon, Mashed Potato and Rich Onion Gravy - £13.50
Trio of Lamb Cutlets with Minted Gravy - £16.95
Vegetarian Options
Vegetable Curry with Rice and Poppadom - £10.50
Goats Cheese and Red Onion Tart with a Balsamic Glaze - £10.50
Peppers Stuffed with Rice, Onion, Cherry Tomatoes and Feta (optional) - £10.50
Finest quality locally produced steaks
Ribeye (10oz) - £17.95
Sirloin (12oz) - £19.95
Sirloin (6oz) - £11.25
Rump (12oz) - £17.95
Rump (8oz) - £13.95
All steaks served with homemade Onion Rings, Mushrooms and Grilled tomato and a choice of Peppercorn, Stilton or Diane Sauce - £2.00 each
Homemade Pies - See the Specials Board - £11.25
Main courses served with Vegetables or Salad and a choice of: Sauté, Mashed, New, or Homemade Chips (unless otherwise stated)
Please be aware that as all our meals are cooked to order it can take some time before you are served
GF – Gluten free bread available with any meal and fried onions to replace onion rings
~ Homemade Desserts ~
Please ask or see the specials board
For Our Younger Customers
Chicken Nuggets
Sausages
Cheese and Tomato Pizza
Fish Fingers
Beef Burger
Scampi
Macaroni Cheese
All of the above served with Mashed Potato, Chips or New Potatoes and Beans or Peas £4.95
~ Also Available at Lunchtime ~
Omlette- £7.50
With a White or Brown Roll and choice of 2 fillings: Mushrooms, Onions, Peppers, Tomato, Cheese, Ham, Bacon
Rolls, Brown or White – All £6.50
Hot
Chicken, Brie and Cranberry
Smoked Bacon, Lettuce and Tomato
Steak, Onion and Stilton
Goats Cheese and Red Onion Marmalade
Roast Pork with Apple Sauce and Stuffing
Cold
Tuna, Mayonnaise and Sweetcorn
Smoked Salmon and Cream Cheese
Rare Roast Beef with Horseradish
Cheese and Red Onion
Home Baked Ham with Mustard of your choice
N.B. Gluten free rolls available
Homemade Chips £2.35, Cheesy Chips £2.85, Garlic Bread £2.35, Cheesy Garlic Bread £2.85
FOOD ALLERGY NOTICE – If you have a food allergy or a special dietary requirement, please inform a member of the team.